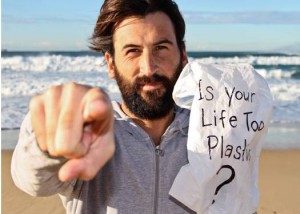 Pics and Flicks Special: Screening of Bag It
Tim Silverwood, an environmentalist, co-founder of 'Take 3' (an initiative that asks each beach visitor to take three pieces of rubbish with them when they leave) and Ambassador for Keep Australia Beautiful Week 2011 will host a screening of the new, award-winning environmental documentary Bag It as a Pics and Flicks special screening:
Date: Friday October 21st
Venue: Gerringong Town Hall
Time: 8.00pm
Cost: free to P&F members
and $10 to non-members
Supper: available
In July 2011 Tim sailed from Honolulu to Vancouver through the North Pacific Gyre to research plastic pollution in the Pacific Garbage Patch and is keen to share his experiences with locals in a short Q & A session after the film.
Bag It follows an ordinary man, Jeb Berrier, as he tries to make sense of our dependence on plastic bags. We can't live without it so we need to learn how to live with it! The film explores how our daily reliance on plastic threatens not only waterways and marine life, but human health, too. Bag It aims to raise awareness of plastic pollution in our oceans and the simple things we can do in our lives to reduce our plastic footprint.
Information: Warren McPherson 0427043621