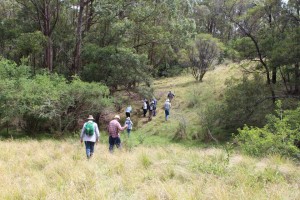 This FREE workshop may be of interest to you. This is a great opportunity if you are:
New to land management
Feeling overwhelmed with the scale of work you might be facing
Unsure about where to start
Unsure of where to go for support
Would like to see what other locals are doing
Interested in native vegetation management
Interested in learning more about bush regeneration
Join local landholder Karla Sperling on her 62 Ha property on Stockyard Mountain and learn about how she has been working to enhance and protect native vegetation on her property for 23 years.
Karla has years of experience in working towards rehabilitating woodland on her property and will talk about her experiences, challenges, key learnings, and techniques she uses.
Karla will also talk about land use and managing native vegetation she has now put under a Voluntary Conservation Agreement.
Participants will then have an opportunity to work alongside Karla and local bush regenerator Lynne Kavanagh, and get their hands dirty. Lynne will also be on hand to share her expertise and discuss effective techniques used in bush regeneration.
This is a wonderful opportunity for landholders who are interested in the long term restoration and protection of native vegetation on their property whether it be a lifestyle farm, or a productive farm, and is an opportunity to ask questions you may have about managing vegetation on your own property.
Morning tea will be provided for participants, please BYO lunch.
When: Friday September 26th, 9am – 3pm
Where: Stockyard Mountain, address supplied upon registration
Activities: Bush walking, plant and weed ID training, bush regeneration training.
Cost: Free
What to bring: Wear long pants, long sleeves, hat, sunscreen, sunglasses, closed in sturdy shoes, plenty of water, gardening gloves
Tools will be provided.
RSVP: to Megan Rowlatt communitysupport@conservationvolunteers.com.au or 02 4229 7526
02 4229 7526