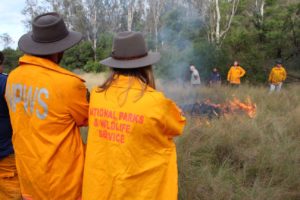 On Thursday the 23rd of June, in partnership with South East Local Land Services and Conservation Volunteers Australia, Landcare Illawarra will be hosting the next Talking Landcare event themed Fire and ecology.
A range of engaging speakers will discuss the role fire can play in managing and restoring ecological communities and the landscape.
The use of fire in the landscape for ecological restoration and managing the land has been a hotly debated topic for a number of years now. With ongoing research, and knowledge of cultural burns, to using heat and fire for weed treatment becoming increasingly researched and practiced, we thought we would bring three engaging speakers to the Illawarra to discuss their work and research in using fire in ecological restoration in the Australian environment.
Speakers –
Mia Dalby-Ball // Director Acacia Environmental Solutions
Mia will speak about the role heat and fire can play in controlling invasive weeds and restoring the landscape.
Dennis Barber // Descendant of the Traditional Custodians from Mudgee of the Wiradjuri – Ranger and Aboriginal Co-Management Officer NSW National Parks & Wildlife Service
Dennis will talk about cultural burning practices being used across NSW.
Dr Mark Ooi // Plant ecologist, University of Wollongong's Centre for Sustainable Ecosystem Solutions
Dr Mark Ooi will speak about plant population recovery in response to fires occurring in different seasons, and the impact of fires of different severities
Who should come?
Staff, land managers and volunteers working on ecological restoration // Bush regenerators // Park managers // All interested community members
When: Thursday 23rd June, from 6 pm – 8.30 pm
Where: The Builders Club – 61 Church Street, Wollongong
To RSVP please book your tickets via the Eventbrite link.
Light refreshmens will be supplied on the evening.
This event is being funded by South East Local Land Services through funding from the Australian Government.